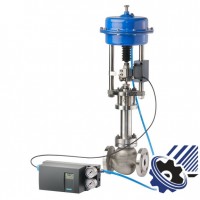 SIPART PS2 with remote position detection
Post on 14-06-2019 04:36:41 AM
In addition to the properties of the compact design, the SIPART PS2 provides the option for separate, remote position detection.
The following systems can be used for particularly critical applications such as extreme vibrations, temperatures and water influences as well as valves which are difficult to access:
The Non Contacting Sensor (NCS) detects the current position of a valve reliably and precisely on the basis of the giant magnetoresistance (GMR) effect with utilization of the magnetic field lines. Compared to other methods which are based on the field strength and are more prone to reacting to this as well as to temperature influences, the GMR principle offers a further advantage: a greater distance is possible between sensor and magnets. The compact design and the high IP68 degree of protection of the non-contact and wear-free NCS also allow use in applications where conventional mounting solutions reach their limits.
The external position detection system in the Makrolon enclosure combined with a SIPART PS2 is particularly suitable for valves which are difficult to access.
The SIPART PS2 is also the best choice for applications which are not always typical for positioners (e.g. with pneumatic cylinders). Thanks to its modular design, however, it can also be connected to external position detection. The principle on which the external sensor is based is irrelevant. Whether with or without contacts, whether potentiometer, current signal or voltage value: the SIPART PS2 always impresses. All these different types of external sensors can be connected quickly and simply to the EMC filter module – no matter whether they are installed externally or inside the actuator component (e.g. in a pneumatic cylinder).